Blog about my life as a mom, fireman's wife, birth doula, & all things pregnancy & birth. Also the occasional post about my adventures in the kitchen and crafting!!! I hope to entertain while sharing important information about my passions, parenting, marriage, cooking, crafting and that miraculous thing called Birth!
Sunday, November 28, 2010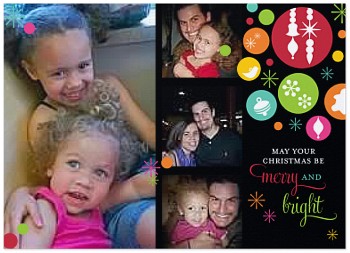 Dazzle And Shine Christmas 5x7 folded card

Posted by

Aj Cecil-Starlin
at 9:57 PM
1 comments

Sunday, November 21, 2010
Recently someone I follow on Twitter had tweeted about the holiday cards she was getting from Shutterfly. They were absolutely adorable! I, of course, tweeted back to tell her how much I LOVED them! Every single year I spend a ton of time, at the very last minute, shopping for, or making Christmas cards to give to friends and family. Its always soooo stressful! This year I have a couple of pictures that I really like and wanted to use for our Christmas Cards. I wasn't sure if I was going to make my own photo cards or order from somewhere. I order my prints mainly online and have been using
Shutterfly
for years bc I'm an avid scrapbooker and you just cant beat their deals!! After seeing my Twitter pals cards I thought maybe that was what I wanted to do. So I started looking at all the amazing cards they have. I am trying to decide if we want to do
Christmas Cards
,
New Years Cards
(for something different) or the
Holiday Story Cards
. Here are links to some of my favorites:
Sweet Scalloped Frame Christmas Card
Kaleidoscope Noir Holiday Card
Dazzle and Shine Christmas Card
Mod Snowflake Story Card
Top Ten Moments Christmas Card
Confetti Countdown Film Strip New Years Card
Year in Pictures New Years Card
(this one is great if you have kids and would make a good holiday card all around!)
I know...how to choose??? Wait until you see all the other amazing cards. These are just a handful of my favorites! I was finally able to choose...here is what we are going to be using for our holiday card this year..
Puzzle Pieces Christmas Card
I LOVE it!!!! I think our friends and family will love it too! Its not often that I have a picture with me in it that I like enough to share so that will probably be a first! My girls are adorable as always of course!
Prints and holiday cards are definitely not all Shutterfly has to offer! I was surprised to see
Invitations
,
Address Labels
, and
Canvas Wall Art
. They also have really cool
Calendars
and one of my favorites (my mom is getting one for Christmas I think)
Photo Books
!!!! Definitely check out all the great things they have to offer. Its so fast and easy to make some really great things out of all those amazing photos that are just hanging out on your computer!!!
Hope I got your creative juices flowing!
Kisses,
AJ
Posted by

Aj Cecil-Starlin
at 12:06 AM
0 comments